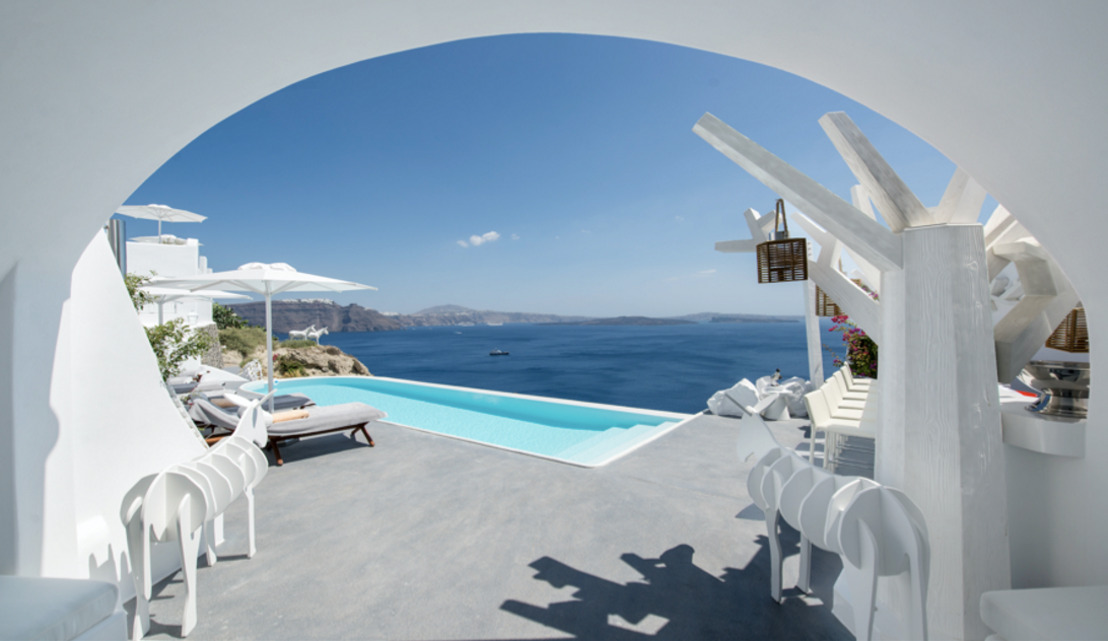 BRAND NEW Canaves Oia Sunday Suites Redefine the Meaning of Luxury Accommodation in Santorini, Greece
Tuesday, March 28, 2017 — Canaves Oia has long excelled in the hospitality industry for its breathtaking views, whitewashed architecture, inspiring interior design, flawless services and first-class amenities. Now, the five-star hotel in Santorini, Greece, is adding to its legacy of luxury with the launch of its all-new Sunday Suites, a complex of eight sumptuous suites carved into the cliffside overlooking the Aegean Sea.
Whether it's the stunning panoramic views, the personalised decor in each of the suites with handmade furniture, the fairytale courtyards of every suite or the artistic atmosphere overall, Canaves Oia Sunday Suites welcomes guests into a world of unparalleled charm and luxury indulgence. Here is what to expect during your stay…
Luxury Accommodation: Mixing timeless luxury with modern comforts and conveniences, Canaves Oia Sunday Suites are ideally located in the centre of the traditional town of Oia with easy access from the main street. Take your pick from the following categories:
DOUBLE ROOM WITH CALDERA VIEW (30 sq. m.)
One spacious bedroom with king size bed, sitting corner, bathroom with shower and veranda with panoramic caldera view.
DELUXE SUITE WITH CALDERA VIEW (55 sq. m.)
One spacious bedroom with king size bed with separate or open plan sitting and dining area, bathroom with shower and veranda with panoramic caldera view.
GRANDE SUITE WITH CALDERA VIEW (80 sq. m.)
Two spacious bedrooms with king size beds, open plan living room, two bathrooms with shower and veranda with panoramic caldera view.
MASTER SUITE WITH INFINITY POOL (45 sq. m.)
One spacious bedroom with king size bed, spacious living room, bathroom with shower, private large veranda with sun beds and private outdoor heated pool and panoramic 360° caldera view.
HONEYMOON SUITE WITH PLUNGE POOL (50 sq. m.)
One spacious bedroom with king size bed, open plan living room, circular bathroom with two rain showers, private veranda with outdoor plunge pool and panoramic caldera view.
TEN BEDROOM VILLA
A unique accommodation option for luxurious living. Guests can book the whole property for exclusive use. This is the epitome of luxury in Santorini.
Fine Dining: Indulge in the gastronomy of Greece at the brand new Sunset Gourmet Restaurant, featuring a fresh, locally-sourced approach to fine dining that invites guests to create or dine along with the chef. The restaurant embraces the concept of creative flair and originality in every aspect of its service to guests, creating mouthwatering, made-to-order dishes in a unique atmosphere—perfect for a romantic candlelit dinner. The pool bar-restaurant, featuring Greek and Mediterranean cuisine, is also open for lunch and dinner.
World-Class Facilities & Amenities: At Canaves Oia Sunday Suites, guests can expect the full range of world-class facilities and features, including uniquely decorated rooms, individually controlled air conditioning, satellite television, free Wi-Fi, a fully stocked mini-bar, a safe deposit box, complimentary Nespresso coffee making facilities, VIP amenities, free private parking near the hotel and amazing infinity pools.
Impeccable Guest Services: Embodying the spirit of genuine Greek hospitality, Canaves Oia Sunday Suites offer a 24-hour front desk, 24-hour room service, concierge service, bell boy service, daily maid service and turn down service. Guests will also be greeted with a welcome drink upon arrival, an a la carte or room service breakfast, transportation to/from the port or airport, and a laundry service.
Rejuvenating Spa: Sister property Canaves Oia Suites allows guests of the new Sunday Suites to experience pure body and soul inspiration at the authentic spa. Embracing the principles of holistic luxury and well-being, it offers guests the opportunity to indulge in high-end wellness and beauty services in an environment of distinctive elegance. Discover a sensual awakening through rejuvenating spa treatments and massage therapies while enjoying the breathtaking views that can only be found at Canaves Oia.